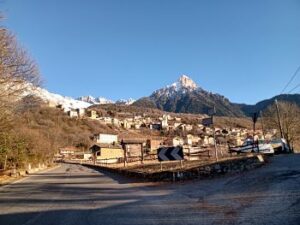 Cimbergo, a small town in the middle Camonica valley, is located at 850 meters above sea level. Since everything is uphill, the difference in height reaches about 1000 meters like inhabited houses. All around renovated huts remind us that in the past almost the entire economy of the town was centered on work in the fields and on livestock farming.
For those who arrive and stop below at the beginning of the town, an interesting natural spectacle is presented: looking up just beyond the village, to the east, you can admire the spiers of the Tredenus chain placed to protect the village. Moving the view to the south, here is the fascinating peak of Pizzo Badile Camuno. On the opposite side, towards Paspardo, the ruins of a medieval fortress show how prudent the choices where to build castles were: three sides protected by nature and only one to be defended militarily. Turning 180 degrees on itself, here is the Concarena massif, which in the serene winter nights whitened by a dusting of snow bewitches the eye. Continuing on the provincial road, just above the town, turning your eyes towards the south-west, you can see the middle valley and the whole of Lake Iseo. There are numerous walks that can be chosen in all seasons of the year: "Santa Lucia", "il Mulino", "The little church of the dead of Boa", the "Volano", "The small waterfall in Vignola", "Le Campanine "with rock engravings and many others…. The town is an excellent starting point for visiting the Camonica Valley or for reaching the ski slopes, such as Tonale, Ponte di Legno, Borno.
Reserved for those who know how to appreciate nature and simplicity.