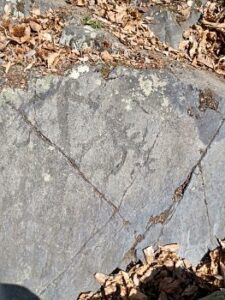 For travelers of history in the open air, I suggest a visit to the Campanine, where access is free and there are numerous engravings and graffiti testifying to the expressiveness of the ancient Camuni.
Route: at the beginning of the town of Cimbergo, there is a space on the right where you can park your car. On the other side of the road there is the entrance to the path to descend, in less than 15 minutes, to the "Campanine" rock art site, where there are rocks with countless graffiti and engravings of the ancient Camuni. Access is free. Continuing along the path it is possible to reach Nadro di Ceto or Capodiponte, coming out right in the Naquane National Park.
Under the town, in the surroundings of Campanine, there are countless historical rocks still hidden, protected by moss and lichens. And so they must stay as long as they can be released and treated to keep them safe.